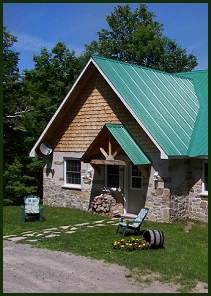 Welcome
The main purpose of the Bing Retreat is to provide the best possible year-round outdoor experience with easy access right here in Eastern Ontario. It is approximately 1 hour and a half drive south west of the Nations Capital and 23 miles due north of Kingston and highway 401 near Frontenac Provincial Park.
Pristine Horseshoe Lake is privately owned and brimming with wild grown trout. Several challenging hiking and mountain biking trails can be found on the property as well.
There are three golf courses within a 20 minute drive from "The Bing" . The bustling town of Westport is just a 10 minutes away offering small town hospitality, great dining and unique shopping opportunities as well as access to the historic Rideau lake / canal system.
During the winter, we offer skating, crosscountry skiing and ice fishing. Or how about just relaxing by the cozy fire and reading a book?
For the avid fly or spin-cast fishermen, "The Bing" has trout fishing at its best combined with easy access and luxurious lakeside accommodations all at an affordable price.
Rental housekeeping facilities are done tastefully in a rustic atmosphere, but fully equipped with modern conveniences featuring satellite TV, DVD, CD players, and gas barbeques. Horseshoe Lake also features excellant swimming with each cottage having its own dock and beach.
Weekend get-togethers with family and friends at Christmas, New Years, March break, or any time for that matter are always memorable at "The Bing" Retreat.