Fishing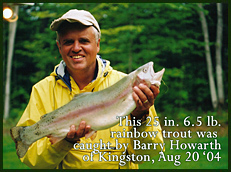 The main purpose of the Bing Retreat is to provide the best possible trout fishing experience with easy access right here in Eastern Ontario. It is approximately 1 hour 30 minute drive South West of the Nations Capital and 23 miles due north of Kingston near Frontenac Provincial Park.
There are three golf courses within a 20 minute drive from the Bing Retreat. The bustling town of Westport is just a 12 minute drive away offering small town hospitality, great dining and shopping as well as access to the historic Rideau Lake, canal system.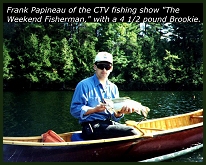 As we avid trout fisherman get older and hopefully wiser, with fishing vacation time at a premium; the prospect of driving for seven hours up north then flying into a remote outpost camp made out of orange crates and tar paper with no electricity or running water somehow doesn't seem as appealing as it used to. Many of these and other public lakes are overfished and understocked. On the other hand, the Bing offers an affordable alternative with easy access, great fishing and luxurious lakeside rental accommodation.