What You Really Want To Hear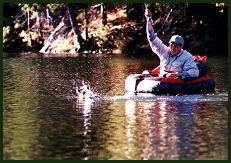 Fish picturesque Horseshoe and Yankee Lakes for wild-grown Speckled and Rainbow Trout ranging in size from 10" (25.5cm) to 6 pounds (3.5kg). Early spring is the best time for fishing these elusive fish whether you choose to flyfish or traditional spin-cast fishing.
Dry fly fishing purists should book times from mid-April to early May or end of Sept. Wet fly fishing is good all season, including the summer months when full sinking line may be used while maneuvering in a float tube or drifting slowly in a boat or canoe.
Trout are also frequently caught trolling with a spinner or spinner -fly combo down below the thermocline at depths between 15 to 45 feet deep. Horseshoe lake reaches 90 feet at its deepest point. Guides are available upon request and are recommended for first time visitors.

The lake water is pristine and clear as it is spring fed and located at the top of the watershed draining eventually into the great lake system. Although Horseshoe Lake is located on the southern tip of the Canadian shield, the P.H. level is perfect for trout because it is buffered against the effects of acid rain by a large vein of crude marble along its eastern shoreline which is slowly disintegrating into the water; acting as a neutralizing agent.