Tour Continued
Cottage life never seems too exciting from an accommodation stand point. That perception completely changes at the Bing Retreat. It could very well be the true definition of luxury in cottage terms.
All rental facilities feature a fully equipped kitchen, T.V., DVD, Stereo with CD player, and a Gas Barbecue . They are all private from each other with their own beach. (This means you and your group have the facility to yourselves and no one will distract you from your experience) The swimming areas are excellent and are complete with a dock and swim rafts. All facilities have maple hardwood floors and are quality constructed.
We also must remind you that when you rent these facilities, they are for you and you only. No one else stays with you to create a more intimate and unique experience.
Camping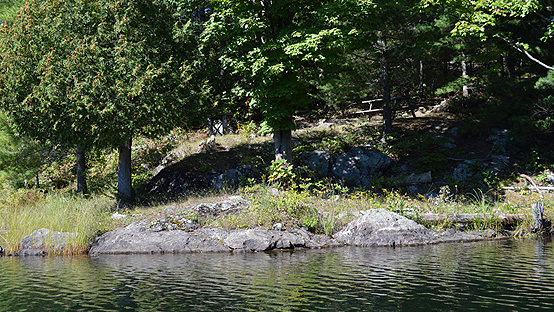 The remote campsite is a popular spot at The Bing Retreat. It is located across the lake from the cottages (boat or trail access only) and is very private. It's almost like having a lake to yourself in Algonquin Park. There is an outhouse, firepit, and a picnic table located there. There is space for 1 large tent near the water and lots more room above nestled in the pines for more tents. The campsite is located beside the outflow creek that travels steeply down to Yankee lake where there is good fishing as well. Firewood for the campsite can be gathered in the surrounding woods or can be purchased prior to embarkation across the lake. The swimming is great there,but the site is on a rocky point...so it may not be suitable for very young children. The cost is $50 per person per night (based on a 2 night stay) and includes fishing rights.